Centennial Service Challenge!
For nearly 100 years, Lions have served their communities with dedication and contributed to the development and well-being of millions of people around the world. To celebrate our 100th anniversary, we are asking Lions to help reach our Centennial Service Challenge goal of serving more than 100 million people by June 2018.
With three levels of participation, there's an opportunity for every club to get involved. Choose a project from the list below or develop your own to address specific needs in your community.
Level 1 - Raise your Community Visibility
Examples:
Post new Lions signs
Donate a park bench
dedicate a statue
Sponsor a fountain in a local park
Level 2 - Provide a Community Gift
Examples:
Refurbish a park or playground
Build a footbridge over a busy road
Fund resources for the visually impaired
Donate a vehicle to a community organization
Level 3 - Make a Community Impact
Examples:
Build a clinic
Expand a library or school
Develop a training center
Equip an area hospital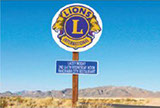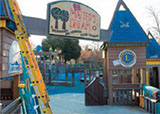 All Legacy Projects should be identified with a sign or plaque
indicating the project was donated by your Lions club.